ALTINAY launches robotic Jumbo size
line feeding system that is three times faster than classical gantry systems, saves 50% floor space and is around 30% less costly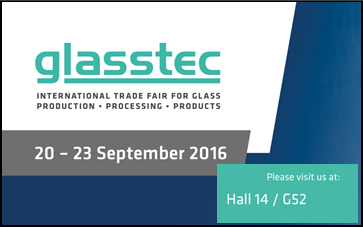 ALTINAY Glass Processing Technologies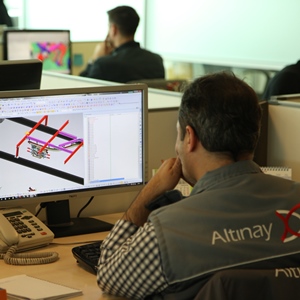 Following a few years of inactivity at Glasstec ALTINAY's glass division was among this year's prestigious exhibitors.
ALTINAY has reaffirmed its focus on the glass industry with a booth that showcased its activities in float glass, robotic cells, glass handling, online and offline cutting as well as line modernisation.
The highlight of the show was the launch of a Jumbo Glass size robotic loading system designed for cutting lines.
The Jumbo sized flexible Robotic loading station unveiled on September 20th, not only is up to three times faster than classical gantry systems, but it also saves 50% floor space and is around 30% less costly.
Exhibition space in the booth was scarce. It was impossible to display the full working system. ALTINAY opted for the solution to build the system as a scale model. Interns from Marmara University Faculty of Mechacinal engineering, Cengiz Kurtoğlu and Konuralp Tevfik Bozdağ were entrusted with the project.
In the end, all visitors were highly impressed with the working scale model of the Jumbo Size Loading Station.
ALTINAY is now preparing offers for the new station to customers in 3 continents.
From turnkey Float glass lines to line modernization, from robotic stand alone cells to fully automated warehouse systems, ALTINAY provides a wide range of services to the glass industry
.
A strong historical background
Messe Düsseldorf and Glasstec have a history going back to 1947. Held every second year, Glasstec has become the most important exhibition in the glass industry. ALTINAY Glass Processing Technologies' team will be present at the exhibition which will be held from September 20th to 23rd.